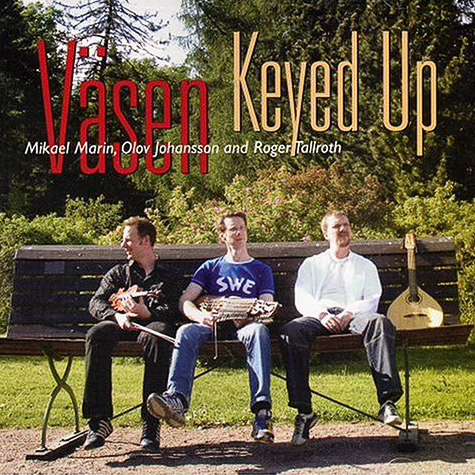 Track List
Björkbergspolskan (Olov Johansson)
Glada polskan (The Happy Polska) (Mikael Marin)
Polska på övervåningen (Polska Upstairs) (Olov Johansson)
Hasse A's (Mikael Marin)
En gratis (One for Free) (Mikael Marin)
Antons första (Anton's First) (Roger Tallroth)
Lille Vilgot (Little Vilgot) (Olov Johansson)
Bromanders 100-års polska (Bromander's 100-Year Polska) (Olov Johansson)
Stinas polska (Mikael Marin)
Flippen (The Flip) (Mikael Marin)
Appalachen/Polskejig (Appalachian/The Polska Jig) (Mikael Marin)
Fallandepolskan (The Falling Polska) (Roger Tallorth)
Nipponpolka (Mikael Marin)
Calles vals (Mikael Marin)
Tomten kommer (Santa's Coming) (Mikael Marin)
This set of all-original, new Väsen trio tunes further elevates the band's status as one of the world's most exciting acoustic ensembles. The band has recently been working more in the original three member format, without percussionist, which resulted in 2003's Trio CD release.
Keyed Up just takes things a bit further, both with energy and musical complexity. Their recording style maintains a loose and fresh approach, capturing the band's unique balance of structure and improvisation by keeping things "live" in the studio. These guys have been playing together now for 15 years, which is how their essentially "on the fly" arrangements can sound so well prepared and rehearsed.
For the fans and serious listeners, the result is nothing short of exhilarating. For everyone else, there's the simple, irresistible power of the tunes and their playing.
Contains the original "Flippen," made famous by a cover version by Punch Brothers.
North Side NSD 6080 Studio "live", recorded in Uppsala, June 2004.